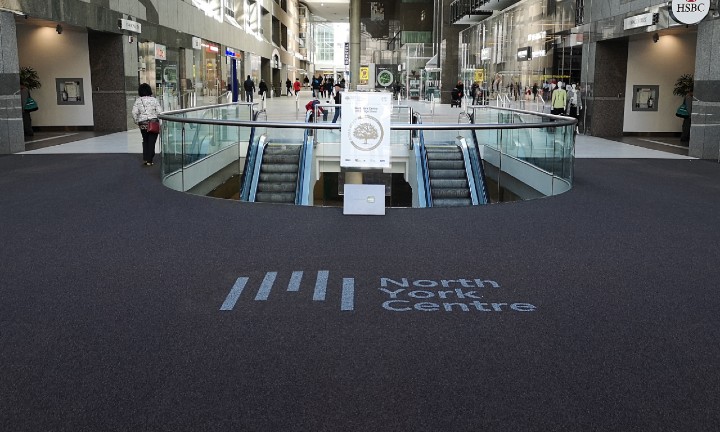 Winter walk-off matting may not be the most glamorous of floor covering to talk about, but when Jack Frost hits, it's a must! It keeps common areas looking clean, protects your interior surfaces, and also reduces slips and falls.
Safety first. Preventing slips and falls by scraping and retaining moisture dirt and debris from shoes is the main function of matting. You want to make sure that your matting has sufficient face fibre construction to have the necessary water retention, to have water penetrate the matting and hold it away from the surface and shoes or boots. That's only part of it. You want to have matting systems that have enough surface area to do what they are designed to do.
A maintenance program needs to start at the front door. Just having a mat at your door doesn't necessarily mean you are protecting your facility. Here are some facts to consider:
Twenty pounds of dirt can be tracked into a facility over a 20-day work period.
As much of 90 per cent of the soil entering a facility walks in on the shoes or boots of the building occupants.
Up to 85 per cent of dirt can be trapped within the first 15 feet with an effective matting system.
With estimated cost of removing one pound of dirt in a typical building being $600, spending $1 keeping soil out of a facility can save as much as $10 in removing it from a facility.
Matting can enhance the interior of a building and complement the common space, entrance or elevator areas. There's no building that is the same, so why should your building have the similar mats to other buildings? With so many colours, including bright colours for logos and various matting styles, whether it be roll goods, plank or tile, the possibilities and design choices are plentiful.
Developing a winter matting system
Developing and creating a matting system is easy with the use of your floor plans, design direction and branding to find the right solution for your building. Create a beautiful first impression with an inlaid logo or the use of border in more than one colour.

When selecting matting, there are a few considerations to think of:
How much traffic do you get in your facility?
How much liquid can it hold?
Is it permanently anti-static?
Is it resistant to chemicals and UV rays?
CRI Green Label Plus Certification Enhanced program sets an even higher standard for indoor air quality. This Certification ensures you are getting the lowest emitting product and are a leader in best practices in environmental responsibilities.
Use matting that LEEDs!
New and old facilities seeking LEED (Leadership in Energy and Environmental Design) green building certification can earn the point recognition necessary to be certified just by having an effective high performance matting system installed. LEED certification proves to the public that your building is doing its part to keep the earth clean and its occupants safe and healthy.

Remember, you don't have to compromise your building appearance in order to protect it.