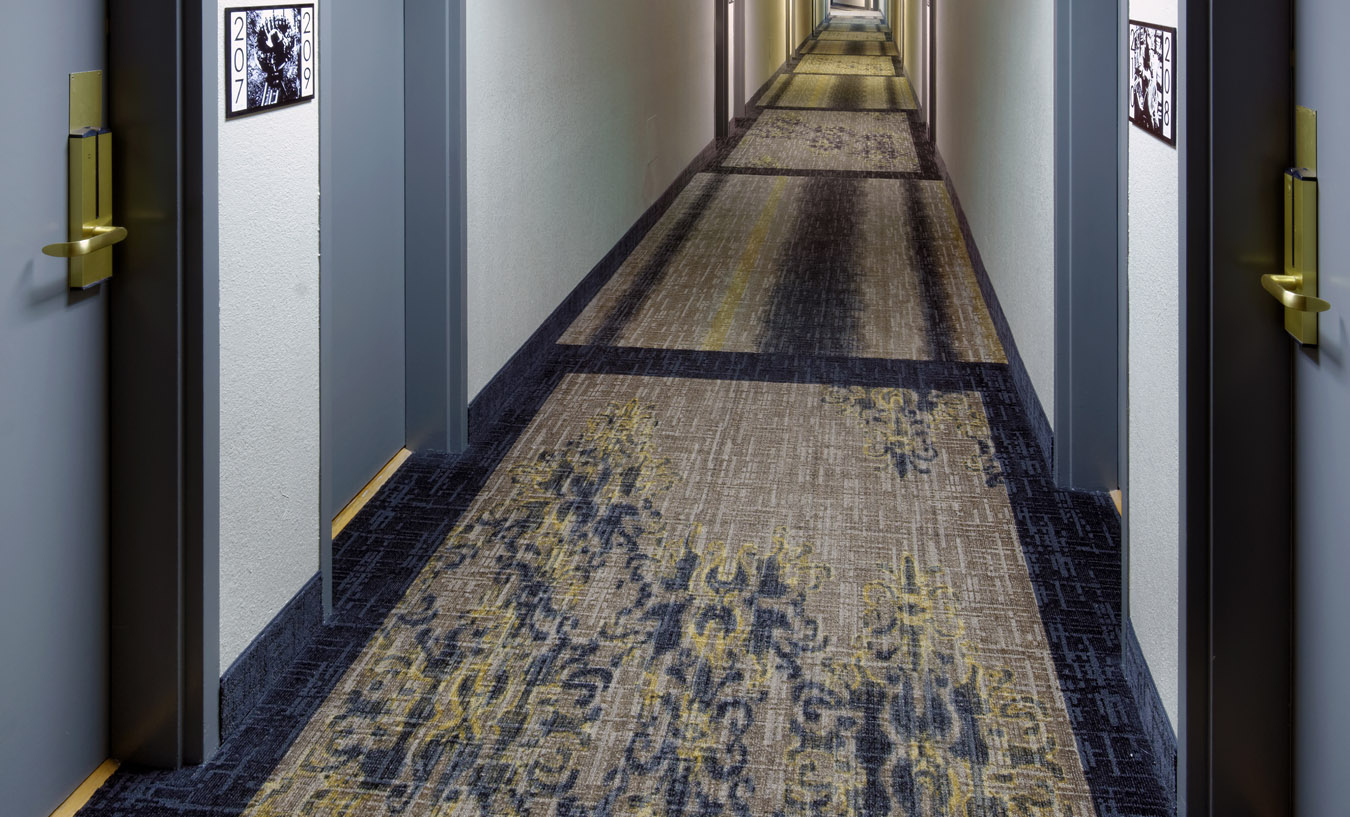 At Vifloor Canada, my colleague Scott and I often meet with condominium boards to help them in selecting a new corridor carpet. We begin by asking the board members to paint us a picture. We ask questions about what they don't like about the existing carpet and what they expect to see when the new carpet is down. Sometimes our audience provides pictures torn from magazines or mentions other condominium buildings that they think have successful, attractive interiors. Often there are divergent answers, but it provides us some insight as to what direction to follow in terms of pattern.
Interior and exterior architectural features, as well as the location of the building, can provide design inspiration. It is important to understand that the corridor is a common area, and decorating rules for a personal space do not necessarily apply. Our goal is to provide a pattern that is complementary in colour and scale to other adjoining finishes and to appeal to as many people as possible.
Choosing a colour
We see neutral colours being selected for most buildings, and in some cases a touch of colour is added to perk up what is otherwise a dreary space. More traditional spaces tend to lean more towards symmetrical patterns that can be updated with colour and scale. We see many newer buildings with younger residents leaning more towards brighter "funky and groovy" geometrics that emote a more energetic and upbeat community. Either way, it is essential that the pattern does its job, which is to hide day-to-day soiling and trafficking. This enables the carpet to look its best between vacuuming and cleaning. Usually we steer away from larger areas of plain colour when it comes to pattern. The idea is to provide a style that looks better longer.
Corridor carpets 2.0
Carpet manufacturing has come a long way. We are now producing patterns with no repeat. An example of that is a recent project that is a long undulating wave that starts at one end of the corridor and virtually disappears at the other end. With a bit of creativity and an open mind, we can explore less standard options to produce very exciting spaces. Combinations of loop and cut surface textures provide the luxury of a higher-end residential look while the loop portion adds the wear capability of a commercial carpet.
Once the pattern and scale has been agreed, colours can be selected or changed to truly customize the carpet for the intended space. Even the most traditional pattern can be updated by a more modern colour palette. We provide 2D and 3D renderings so that the selected carpet can be seen in the corridors. We see how the pattern selected transitions around corners or lays out in more unusual plan configurations and enables us to work out any issues long before the new carpet shows up on site. The next step is the strike-off sample, which provides actual yarn colours being utilized and the actual carpet that will be delivered. This is the final opportunity to correct scale and colour. Upon sign-off, the carpet is ordered. By Todd Cutler, a Design/Sales Consultant with Vifloor Canada. For more information, contact Todd at [email protected].